Mar
14
Tue
Digital Blue Green Event
Mar 14 @ 09:30 – 15:30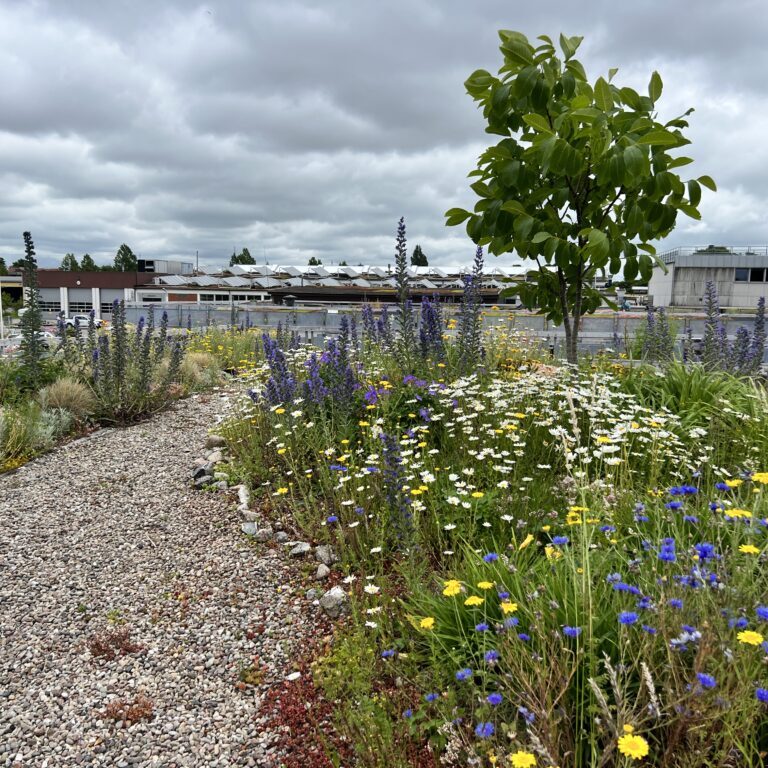 Topic for the day:
Strategies for Urban Biodiversity
Photovoltaic on green roofs / Biosolar roofs
Speakers:
Presentation of the Winners of Scandinavian Green Roof Award 2022
Henrik Aspegren
Chair man SGIA
How to promote biodiversity in urban planning – case City of Vantaa vegetated roof policy
Taina Suonio/Marja Mesimäki
Rosling Manor Gardens
Plantable spots – site specific plant selection for a diverse urban forest
Gustav Nässlander
Nature Based Solutions Institute
Nature-based solutions for improved urban water management and biodiversity conservation
McKenna Davis
Ecologic Institute
The 15 principles of green infrastructure
Gary Grant
Green Infrastructure Consultancy
A tool to measure the performance of ecosystemic services offered by the greened buildings
Sophie Rousset-Rouviere
Adivet
Decision making process in greening cities
Julian Briz
Universidad Politécnica de Madrid
Designing and monitoring Green roof Biodiversity – From installation to succession and long term aspects
Stephan Brenneisen
Zurcher Hochschule
Green roofs and photovoltaic systems – a combination that creates added value!
Erich Steiner
Schweizerische Fachvereinigung Gebäudebegrünung
Water balance and cooling of biosolar roofs
Anna Zakrisson
Greenroof diagnostics
Vertical solar panels (VPV) for green rooftops
Trygve Mongstad
Over Easy Solar
Using fire safety design to enable the combination of PV-systems and green roofs
Alexander Elias
Brandskyddslaget
Innovation in Blue-Green-Solar Roofs; Why people need to shower more when Solar Panels overheat.
Joris Voeten
Wageningen University
Current research projects and innovations on the combination of green roofs and photovoltaics in Austria
Irene Zluwa
Grünstattgrau
How much plastic do we need on Green Roofs or Solar Green Roofs
Jorg Breuning
Green Roof Technology
Jun
27
Tue
World Congress of Building Greening 2023
World Congress Building Green 2023
The World Congress Building Green 2023 in Berlin is a multi-day event all about building greening (roof, facade and interior greening) with the accompanying topics (including urban climate, stormwater management, sustainability, future city). At the end of the congress there will be the opportunity to participate in excursions to special projects.
The World Congress is organized by the Bundesverband GebäudeGrün e.V. (BuGG) with the support of WGIN and EFB.
The largest congress on building greening ever held in Europe will offer, among other things:
over 100 speakers from different countries
over 40 exhibitors at the accompanying trade exhibition
over 20 cooperation and media partners (associations, organizations, institutions)
Knowledge transfer on greening buildings (roof, facade and interior greening)
Demonstration of best practice examples
Knowledge transfer by industry experts from Germany and abroad in parallel series of lectures and discussion rounds
Networking. Meeting point. Addressing new target groups
Cross-thematic exchange of experience between city representatives, architects, urban planners, urban water management experts, industry and real estate representatives, manufacturers, processors, researchers, associations, politicians and other interested parties
Become a Sponsor:
You have the opportunity to become a partner/sponsor and get visible: bugg_2023_sponsoring-packages.pdf (bugg-congress2023.com) > registration is already open!!
world-congress-of-building-greening-2023-save-the-date.pdf (bugg-congress2023.com)
Website: Home (bugg-congress2023.com)
Registartion for tickets has started!