Sep
19
Thu
International Conference Poland

@ Polish Green Roof Association
INTERNATIONAL CONFERENCE ON THE OCCASION OF 10TH ANNIVERSARY OF PSDZ
The Polish Green Roof Association (PSDZ) invites you to their conference in september in Wroclaw. Current status, problems and possibilities of implementation Green Infrastructure in modern cities with particular emphasis on green roof and living walls will be presented and discussed at this conference.
CONFERENCE TRIP
On the last day of our conference we will show you green roofs and living walls in Wroclaw. Of course, it is impossible to see all of them, but we can promise you will not be boring. During visiting every place we will give you a lot of interesting information. This will be also great opportunity to become acquainted technical information. Or maybe you are interesting in something else? You will be able to ask any question!
After that we invite you to Wojslawice Arboretum where besides beautiful plants (that you can use for green roofs and living walls)
a homely meal will be waiting for you.
DEADLINES
Sending summaries (papers and posters) by 30.04.2019
Acceptance of sent abstracts by 30.05.19
Sending the presentation to 31/08/19
TECHNICAL REQUIREMENTS OF THE ABSTRACT
• TNR 12 font
• name and surname of the author / authors + affiliation
• mailing address of the main author
• keywords (maximum 5)
• literature
• maximum number of characters 2500
Speakers may submit their articles for publication in a book published by the Wroclaw University of Environmental and Life Sciences.
The articles that will be accepted by the publishing house may be chapters of a book published by Routledge (Taylor & Francis Group).
Jun
16
Tue
World Congress of Building Greening 2020

@ Mercure Hotel MOA Berlin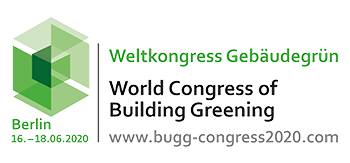 The World Green Infrastructure Congress is a multi-day event concerning the greening of buildings (greening of roofs, façades and indoor areas) with the associated accompanying topics (e. g. urban climate, rainwater management, sustainability). A trade exhibition of various companies, organizations and associations around building greening and associated trades will be held during these days.
At the end of the congress, there is the possibility to participate in excursions to special green roofs and façades in Berlin.
The congress offers:
Knowledge transfer of greening of buildings (greening of roofs, façades and indoor areas);
Showing of best practice examples;
Transfer of knowledge by industry experts from Germany and abroad in parallel series of lectures and discussion rounds;
Networking.  Meeting point.  Addressing new target groups;
Interdisciplinary exchange of experience between city representatives, architects, city planners, urban water developers, industrial and property representatives, manufacturers, processors, researchers, associations, politicians, and other interested parties.
You want to join and participate?
As speaker, exhibitor or sponsor?
We are looking forward to meeting you!