May
10
Tue
World Congress of Building Greening 2022
[vc_row][vc_column][vc_column_text]
World Congress Building Green 2022
[/vc_column_text][/vc_column][/vc_row][vc_row][vc_column][vc_column_text]The
World Congress Building Green 2022
in Berlin is a multi-day event all about building greening (roof, facade and interior greening) with the accompanying topics (including urban climate, stormwater management, sustainability, future city). At the end of the congress there will be the opportunity to participate in excursions to special projects.
The World Congress is organized by the Bundesverband GebäudeGrün e.V. (BuGG) with the support of WGIN and EFB.
The largest congress on building greening ever held in Europe will offer, among other things:
over 100 speakers from different countries
over 40 exhibitors at the accompanying trade exhibition
over 20 cooperation and media partners (associations, organizations, institutions)
Knowledge transfer on greening buildings (roof, facade and interior greening)
Demonstration of best practice examples
Knowledge transfer by industry experts from Germany and abroad in parallel series of lectures and discussion rounds
Networking. Meeting point. Addressing new target groups
Cross-thematic exchange of experience between city representatives, architects, urban planners, urban water management experts, industry and real estate representatives, manufacturers, processors, researchers, associations, politicians and other interested parties
[/vc_column_text][/vc_column][/vc_row][vc_row][vc_column][vc_btn title="Register here!" color="green" align="center" link="url:https%3A%2F%2Fwww.bugg-congress2021.com%2Fde%2Fanmeldung.html%231475tab1″][/vc_column][/vc_row]
Jun
6
Mon
World Green Roof Day 2022

@ world wide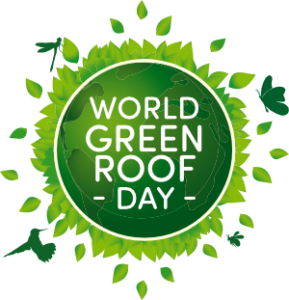 [vc_row][vc_column][vc_separator][vc_single_image image="8604″ img_size="full" alignment="center"][/vc_column][/vc_row][vc_row][vc_column][vc_column_text]
Why World Green Roof Day?
Towns and cities globally are going green to adapt to climate change. Green roofs also provide vital wildlife habitat and make life better for everyone.[/vc_column_text][vc_column_text]
What is World Green Roof Day?
A celebration of green roofs all over the world and the many benefits they bring to people and nature.[/vc_column_text][vc_column_text]
How to be part of #WGRD2021
Share the green roof love on social media with images, events and gatherings.[/vc_column_text][vc_column_text]
Become a #WGRD2021 supporter
You can support #WGRD2021 as an individual or organisation[/vc_column_text][/vc_column][/vc_row][vc_row][vc_column][vc_column_text]
#wgrd         #worldgreenroofday
[/vc_column_text][vc_single_image image="7972″ img_size="full" alignment="center"][/vc_column][/vc_row]