We are glad to continue presenting our Team, starting with the EFB Executive Board, which is forming the core of the European Federation of Green Roof and Living Wall Associations (EFB).
As you already know, at the EFB Annual General Meeting, which took place in Berlin and online on 30.06.2023 the new EFB President was elected – Paulo Palha. Also, the new EFB Executive Board was elected.
The information about all EFB Executive Board members will appear here step by step.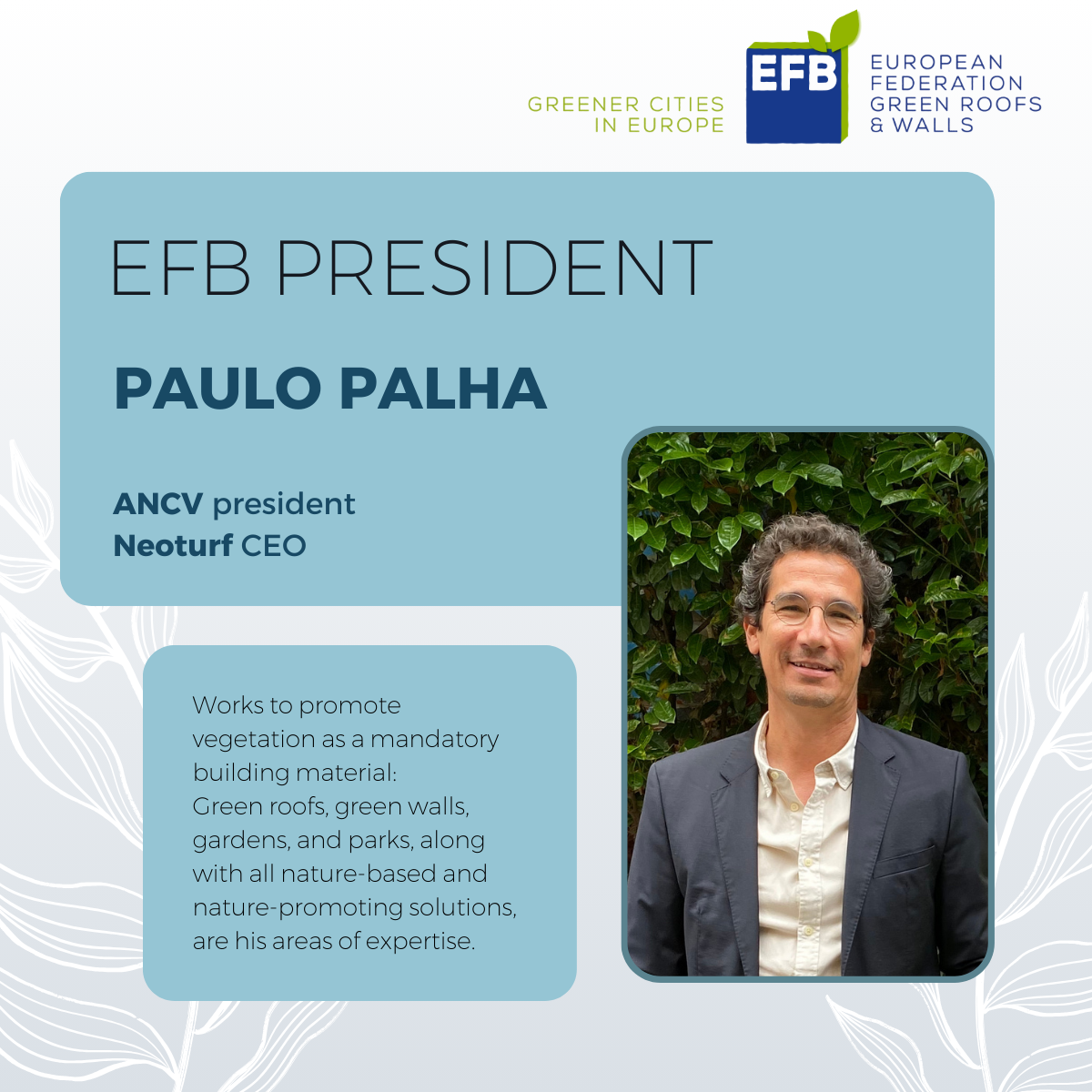 Paulo Palha – EFB President.
Graduated in Agronomic Engineering from the University of Trás-os-Montes and Alto Douro (UTAD), Paulo Palha works to promote vegetation as a mandatory building material: Green roofs, green walls, gardens, and parks, along with all nature-based and nature-promoting solutions, are his areas of expertise.
Paulo Palha has always worked in landscaping and nature-based solutions for cities, currently CEO of Neoturf (www.neoturf.pt). He has been involved in hundreds of landscaping, green roof, and vertical garden projects in Portugal and abroad.
He actively participates in research and development projects focused on nature-based solutions. He led the Green Urban Living project, which developed the first Portuguese green roof system entirely made from cork industry waste (https://www.neoturf.pt/en/investigation/gul-greenurbanliving).
Due to his expertise in green roofs, he is frequently invited to teach courses in different parts of the country and abroad, and he is a guest speaker at major international events.
Paulo Palha was the founder and current president of the Portuguese Green Roofs National Association (www.greenroofs.pt). His work includes coordinating the working group responsible for the first Portuguese technical guide for the design, construction, and maintenance of green roofs. He was also the author of Porto's fifth facade project (PQAP), an initiative that delivered a report to the Porto Municipality on the best approach to incorporating green roofs into the city's strategy. The PQAP project gained international recognition and awards.
He founded Landlab (www.landlab.pt), a company dedicated to the development and commercialization of systems that promote the water cycle, vegetation in built structures, and noise reduction.
He is a Climate Reality Leader trained by Al Gore.
His latest project/start-up company is focused on using plastic waste from the sea to create vertical gardens (www.wallgreen.pt).
Paulo Palha represents Portugal and EFB in the World Green Infrastructure Network (WGIN).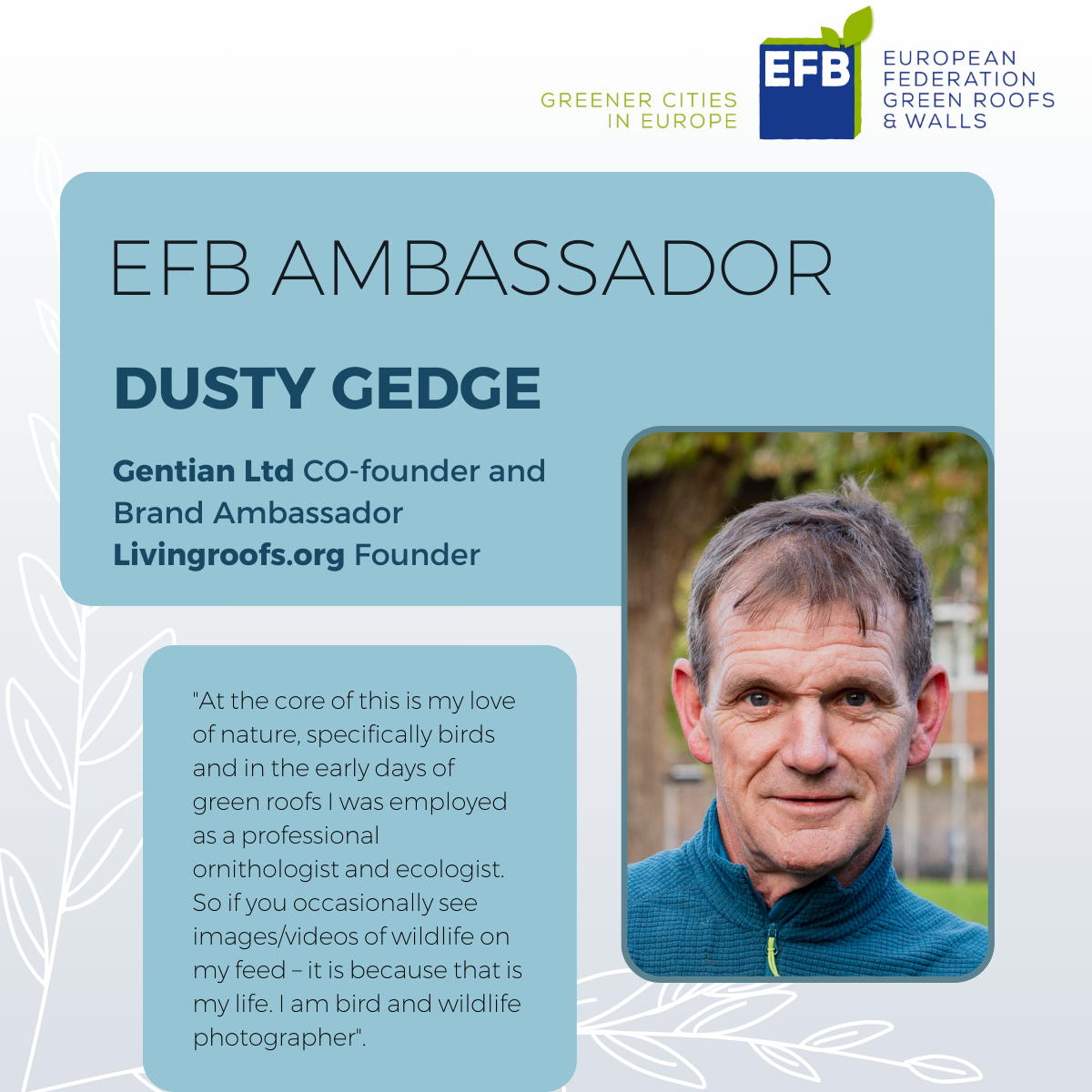 Dusty Gedge who served as EFB President for 16 years now becomes the EFB Ambassador.
Here is a short summary of his rich and varied work experience:
Dusty Gedge is a Green Infrastructure Professional, Speaker, Photographer and Nature Conservationist.
He is the current Honorary Ambassador of the European Federation of Green Roof Associations (EFB) and founder of Livingroofs.org, and a founding member of GRO – the UK green roof trade body.
Dusty was a consultant with the Green infrastructure consultancy (theGIC), which grew out his work on 2008 New London Plan which had the first green roof and wall policy in the UK. He is now working as independent green roof/urban biodiversity professional working across the UK and Europe and also co-founder of Gentian Ltd – a smart tech company that maps and monitors biodiversity and green infrastructure/nature-based solutions.
Though he has a particular interest in biodiversity and urban nature, his work in the built environment also focuses on climate resilience and the promotion of greener cities through multi-functional green infrastructure.
A recognised designer, and technical and policy advisor on green roofs and urban green infrastructure (GI), he has worked on GI Projects in the UK for the last 25 years and a few beyond the UK shores.
One of the founders of WorldGreenRoofDay and he acts as the public face of the event.
He also co-wrote the online small-scale green roof guide, with John Little www.greenrooftraining.com
He is also a published author and has been instrumental in writing strategic reports on green roofs and green infrastructure, the most recent of which is the new London green roof report.
Dusty has also been a TV presenter and is an internationally recognised speaker at conferences and events around the world.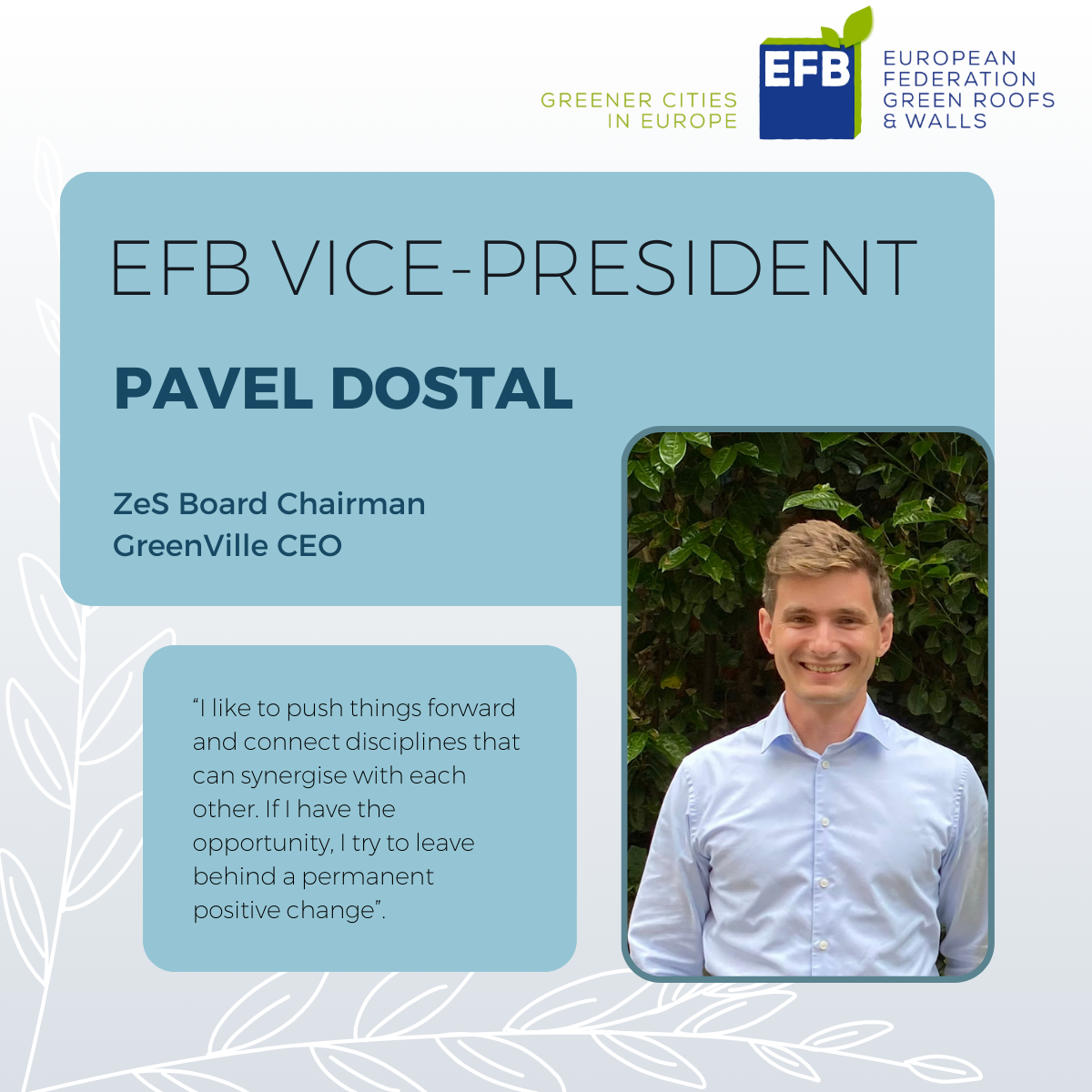 Pavel Dostal – EFB Vice-President.
In 2016, Pavel completed his studies at the Prague University of Economics and Business with a focus on international relations.
He is the CEO of the company GreenVille which specializes in design installation and maintenance of green roofs.
Pavel Dostal has been working in the Czech Green Roof Association – Odborná sekce Zelené střechy (ZeS) since its founding in 2013. The Czech Green Roof Association is very active in the European Federation of Green Roof and Living Wall Associations (EFB).
Pavel initially devoted himself to communicating with partners and members of EFB and sharing information between the Czech Republic and other countries. Over time, he has become the chairman of the Czech association and also a Vice-President of EFB.
He participates in EFB and ZeS projects, is a speaker, author and co-author of several articles and publications and represents the associations at national and international events.
He is enthusiastic about driving progress and bridging fields that can complement each other. Whenever he has the opportunity, he strives to leave a lasting positive impact.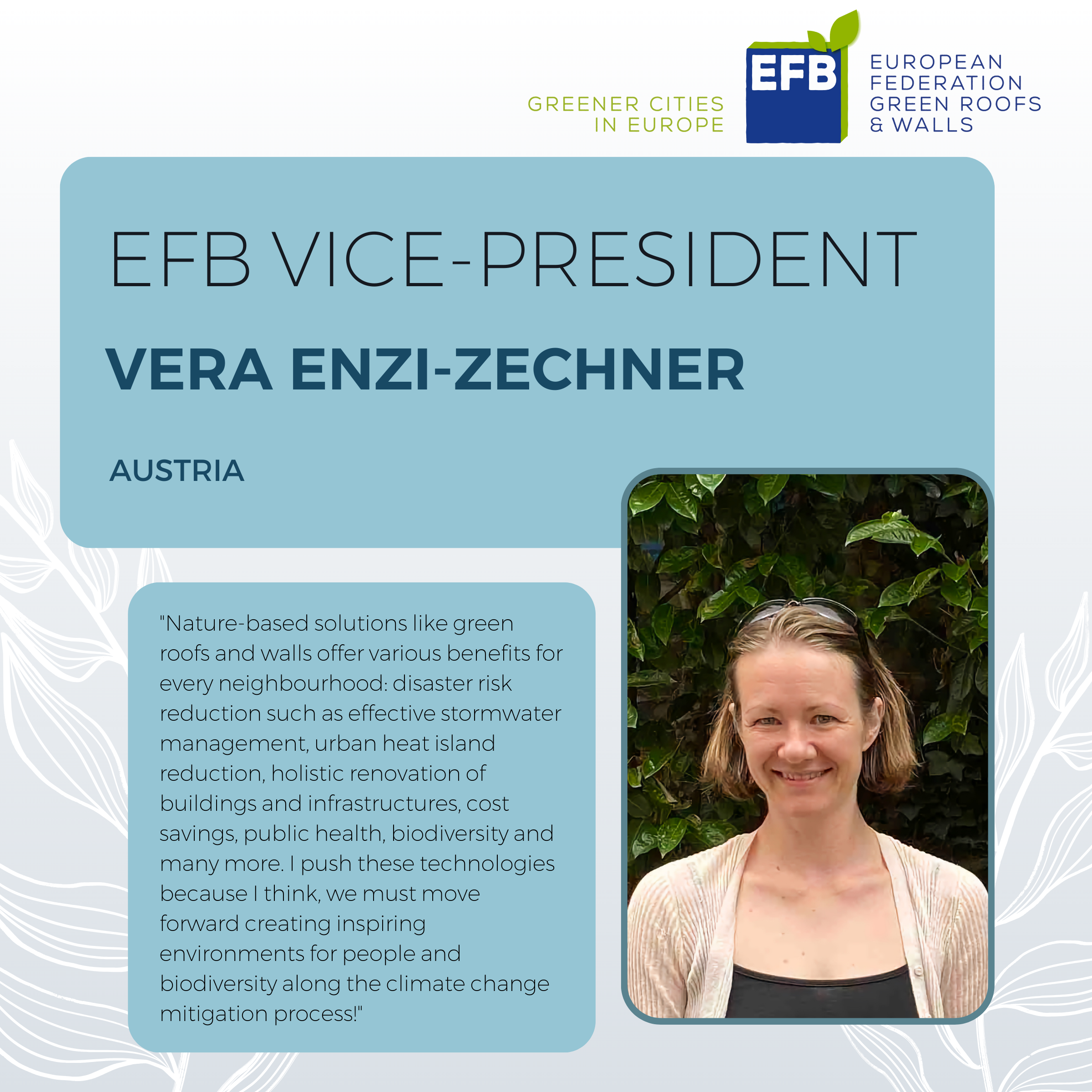 Vera Enzi-Zechner – EFB Vice-President.
She holds an MSc in Landscape Planning and Landscape Architecture with a strong focus on water-sensitive design, biodiversity and vegetation engineering on and in buildings and infrastructures. She has worked in urban green infrastructure and NBS research and teaching since 2010 at the University of Life Sciences Vienna (BOKU) and took part in Spin-Off activities in the field of NBS benefit simulation, certification and tailored planning. In 2017, she built up the Austrian Innovation Laboratory "GRÜNSTATTGRAU" for Greening buildings and cities, a large-scale network with over 300 Partners from public to private and led the organisation until her maternity leave in 2021 in the position of CEO. In various roles, she has supported the European Federation of Green Roof and Living Wall Associations (EFB) and the Austrian Association of Green Roofs and Walls (VfB) since 2008.
As an expert at the Austrian and EU level, Vera Enzi-Zechner deals with the technology and market sectors of facade greening, roof greening, interior greening and other water-sensitive urban green elements. In the course of her past work, she accompanied various EU institutions in the transformation process related to the Green Infrastructure Strategy and Nature-Based Solutions for Renaturing Cities and guided SMEs, investors and city administrations in the strategic implementation of greening projects. She has initiated and led a large number of national and international research projects in the field.
Her published works include amongst many others the Austrian Facade Greening Guideline (2013, 2017), the solar guideline (2021), the Austrian Green Market report (2021) and SPRINGER publications such as "Nature-based Solutions to Climate Change Adaptation in Urban Areas" (2017) and "Green Roof and Walls Technology Standardization and Market across Europe" (2022).
Nowadays, Vera Enzi-Zechner works as a self-employed independent expert and strategist for a broad set of public to private clients. She is an international expert in nature-based solutions and green infrastructure on buildings such as green roofs, outdoor and indoor green walls, permeable paving, rain gardens, etc. Her interest is mainly in biodiversity, animal-aided design and urban (vertical) farming.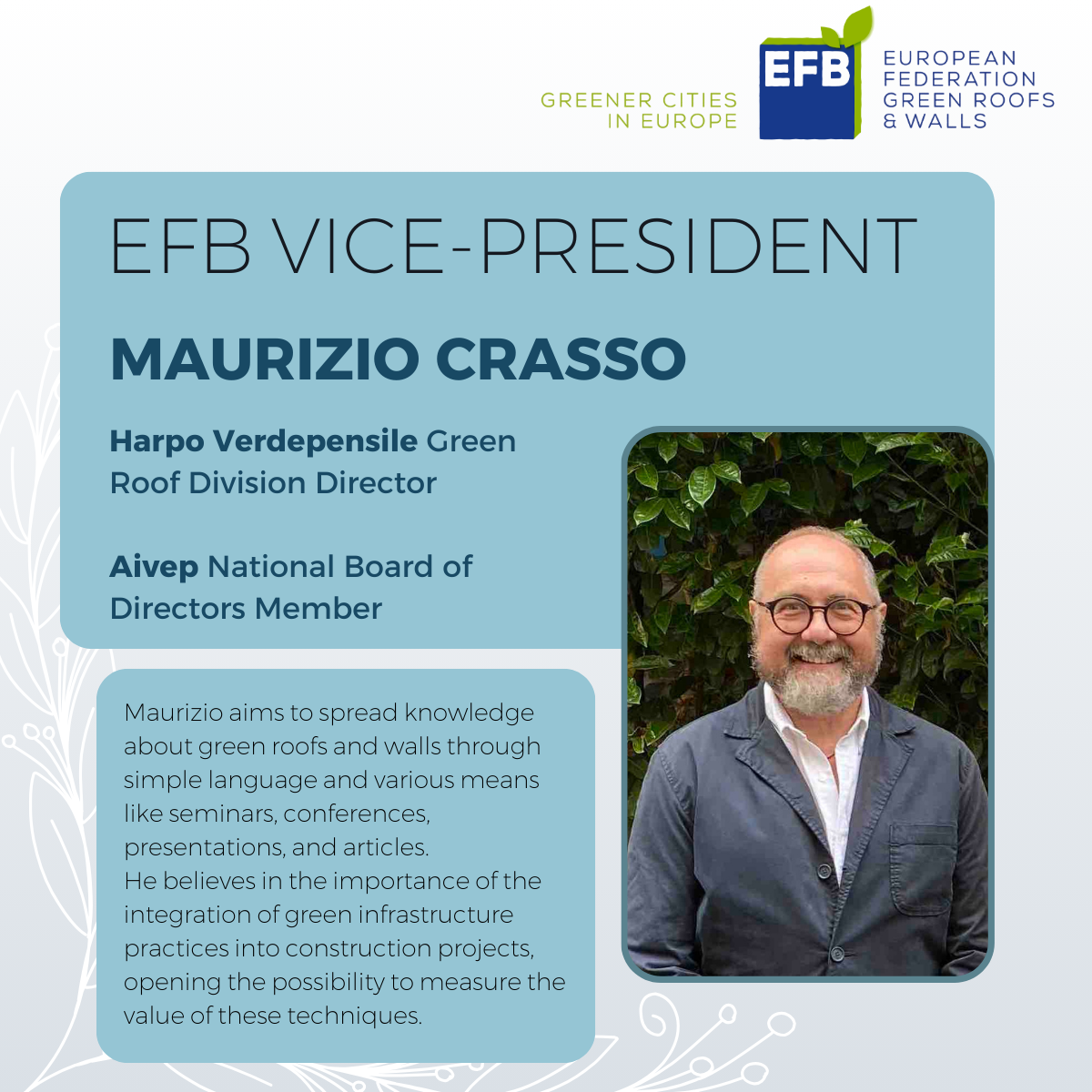 Maurizio Crasso – EFB Vice-President.
Maurizio Crasso is a geologist and director of the Green roof division of Harpo spa in Trieste, Italy; green roof technician and developer.
From 1990 in Harpo reached the position of Director of the geotechnical division (2001) and the Director of all the construction division (2011).
In 2003 he created a new division in the company dedicated to hanging gardens, today Harpo Verdepensile, recognized as the Italian market leader for hanging gardens.
He is a member of the Aivep National Board of Directors – Italian Green Roofing Association – for which he is an Italian delegate to the European Federation of Green Roof and Living Wall Associations (EFB) and it's Vice President.
Co-author of several publications and research on green roofs, he was responsible for the group of research consisting of Harpo, the University of Genoa Dicat department and the University of Trieste, faculty of life sciences for the project "Definition of behavior patterns of green roofs for the building envelope and the environment" co-funded by Harpo and from the European Community.
Actively participating in the drafting of specific green roof standards, including the UNI 11235 standard both in the original version of 2007 and for the updated and extended version of 2015.
To be continued…
The information about all other EFB Executive Board members will appear here step by step.