ProGIreg celebrates successes at final event in Zagreb
On 13 & 14 September 2023, the proGIreg partners met in Zagreb for its final event, highlighting the main successes of the past 5 years. During the two day event, partners discussed the key results (such as the business model catalogue), as well as the approaches used to achieve these results. Furthermore, the City of Zagreb organised study visits to its nature-based solutions implementation sites.
Zagreb was a fitting host for proGIreg's final event. As highlighted by deputy Mayor Luka Korlaet, the city has replanted 10,000 trees destroyed by storm, is continuously introducing green spaces in city blocks, and is expanding pedestrian zones. Furthermore, Niksa Bozic, head of the Institute for Spatial Planning for the City of Zagreb, emphasised that Croatia's capital has a proud history of looking at other cities, such as Vienna or Belgrade, for examples of best practices for green urban planning. Bozic also noted that after Croatia's independence from Yugoslavia, urban planning in Zagreb shifted from public areas towards individual plots. Now, based partly on concerns from citizens, there is a shift back to public planning.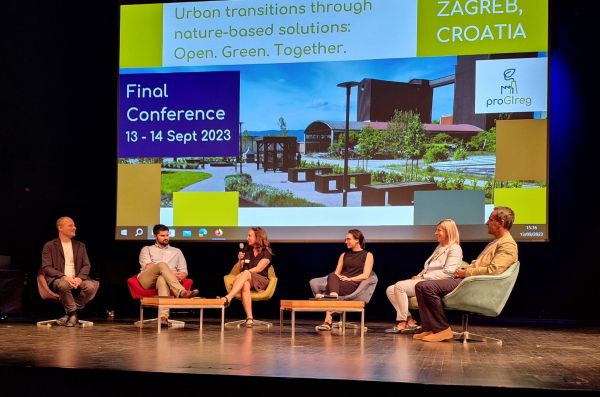 The nature-based solutions seen during the study visit of Zagreb are a good example of this shift. ProGIreg stands for productive Green Infrastructure regeneration, and as such, aimed to implement nature-based solutions that provide measurable economic benefits, that go beyond merely the improvement of living conditions and the reduction of vulnerability, to citizens and entrepreneurs in post-industrial districts. This is the case in Sesvete, a suburb of Zagreb, which has with the support of proGIreg, implemented a community garden for growing fruits and vegetables, a modular urban farm and a therapeutic garden for children with disabilities. These children can come with their parents to the garden and find a safe space to interact with others, while also having the opportunity to grow their own their own veggies, enabling them to contribute to society.
The community garden is a great example of proGIreg's approach to nature-based solutions. As Margot Olbertz, landscape architect at project coordinator RWTH Aachen University, explained:
"Community engagement is key for cost-effective nature-based solutions – therefore co-creation is at the heart of productive green infrastructure".
Co-creation is also one of the principles of co-design for urban regeneration, alongside flexibility, long-term thinking, and experimentation. These principles, developed by project partner ICLEI Europe, were all applied in practice during workshops in the project cities, which beyond Zagreb, include front-runners Dortmund (Germany), Turin (Italy) and Ningbo (China) and follower cities Cascais (Portugal), Cluj-Napoca (Romania), Piraeus (Greece), and Zenica (Bosnia and Herzegovina).