EFB elected a new President – Paulo Palha from Portugal
During the EFB Annual General Meeting – 2023 which took place in Berlin on 30.06.2023, there have been approved changes in the composition of the Board of the organisation.
Paulo Palha – the founder and current president of the Portuguese Green Roofs National Association –  was elected as a President of the  European Federation of Green Roof and Living Wall Associations (EFB).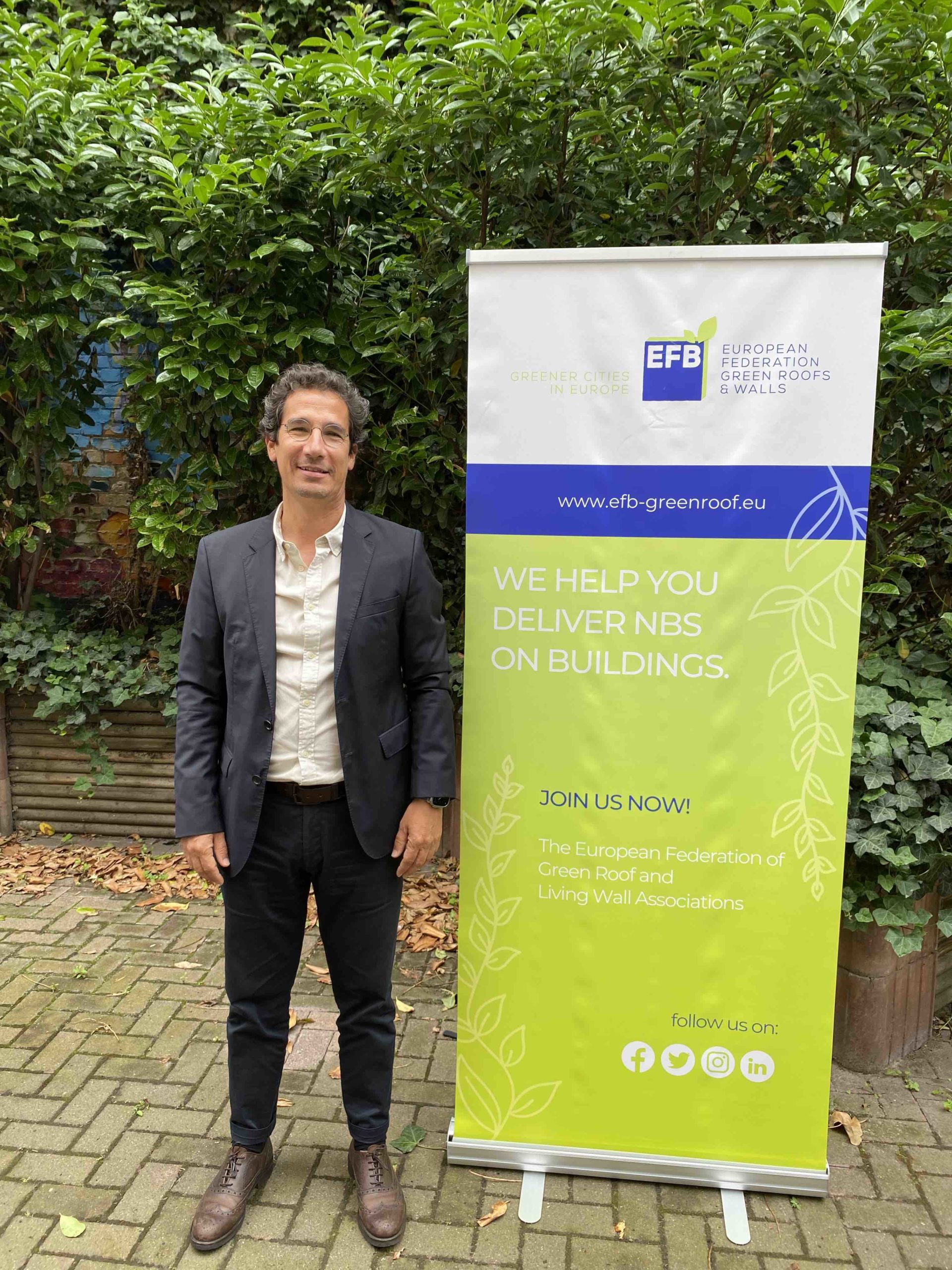 Short CV description of new EFB President Paulo Palha
Graduated in Agronomic Engineering from the University of Trás-os-Montes and Alto Douro (UTAD), Paulo Palha works to promote vegetation as a mandatory building material: Green roofs, green walls, gardens, and parks, along with all nature-based and nature-promoting solutions, are his areas of expertise.
Paulo Palha has always worked in landscaping and nature-based solutions for cities, currently CEO of Neoturf (www.neoturf.pt). He has been involved in hundreds of landscaping, green roof, and vertical garden projects in Portugal and abroad.
He actively participates in research and development projects focused on nature-based solutions. He led the Green Urban Living project, which developed the first Portuguese green roof system entirely made from cork industry waste (https://www.neoturf.pt/en/investigation/gul-greenurbanliving).
Due to his expertise in green roofs, he is frequently invited to teach courses in different parts of the country and abroad, and he is a guest speaker at major international events.
Paulo Palha was the founder and current president of the Portuguese Green Roofs National Association (www.greenroofs.pt). His work includes coordinating the working group responsible for the first Portuguese technical guide for the design, construction, and maintenance of green roofs. He was also the author of the Porto's fifth facade project (PQAP), a initiative that delivered a report to the Porto Municipality on the best approach to incorporating green roofs into the city's strategy. The PQAP project gained international recognition and awards.
He founded Landlab (www.landlab.pt), a company dedicated to the development and commercialization of systems that promote the water cycle, vegetation in built structures, and noise reduction.
He is a Climate Reality Leader trained by Al Gore.
His latest project/start-up company is focus on using plastic waste from the sea to create vertical gardens (www.wallgreen.pt).
Paulo Palha represents Portugal in the World Green Infrastructure Network (WGIN).