EILO Best Project Awards 2021
52 indoor greenery projects from 15 countries show that the future is green!
Every two years EILO – the European Interior Landscaping Organisation – organises its Best Project Competition. EILO's aim is to connect professional interior landscapers to share knowledge, expertise and inspiration and with this competition it wants to generate attention for interior landscaping with the general public by celebrating the creativity, innovative potential and craftsmanship of the interior landscaping sector.
Despite the past few years having been hard for the interior landscaping sector due to COVID-19, the EILO Best Projects 2021 edition received the highest number of eligible entries ever;  52 projects all aimed at enhancing human wellbeing by bringing nature closer to people. This year we were very pleased to welcome projects from Australia, Belgium, the Czech Republic, Denmark, France, Germany, India, Italy, Lithuania, Monaco, the Netherlands, Sweden, Switzerland, the UK and the US.
All nominees were judged by an independent international jury. Projects ranged from free-standing greenery to large green walls and urban indoor parks and jungles. The members of the jury were impressed by the outstanding quality of all nominated projects and by the nominees' attention to sustainability as intrinsic motivation for their work in indoor greenery.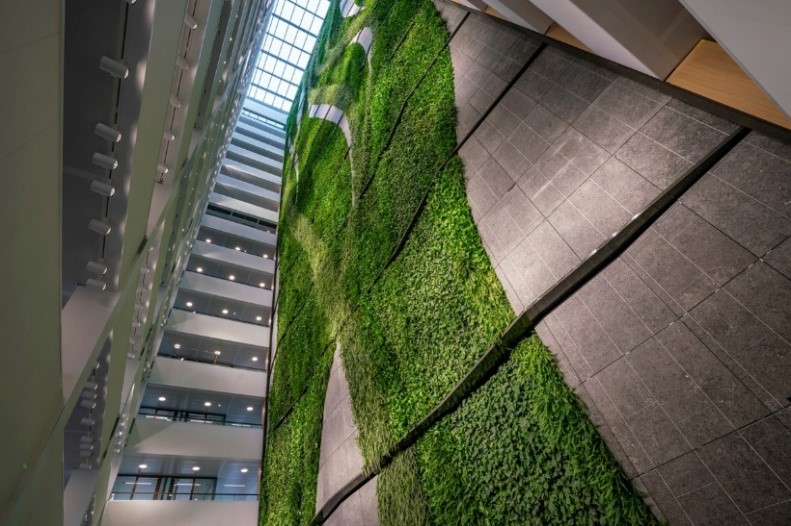 Gold Leaf winner: Koninklijke Ginkel Groep the Netherlands, European Medicine Agency
The category Vertical Green out of 9 received projects:
Koninklijke Ginkel Groep, the Netherlands was awarded the Gold Leaf for their gigantic green wall in the European Medicine Agency in Amsterdam. Truly impressive, inspiring and beautifully designed.
Silver Leaf: Donker Interieur, the Netherlands with their Plantwall Dome AFAS Theatre. A spectacular sight using great techniques for this challenging space.
Bronze Leaf: Halbe Green Walls, the Netherlands with Vertical garden at the IVM meeting room. An abundant, lush green wall brought up close to people in a relatively small office space..
The category Green Interior received a record number of 25 project, giving the jury a hard time to choose.
The Gold Leaf was awarded to Koninklijke Ginkel Groep & Makers of Sustainable Spaces (MOSS), the Netherlands for  Central Park –  a sky high indoor park. The jury was very impressed by the design and greenery of this beautiful indoor park, even containing a little river, providing space for connecting people.
Silver Leaf: Donker Interieur, the Netherlands with FloriWorld Aalsmeer. A great example of how plants can put up a show and function in relatively dark spaces.
Bronze Leaf: Plant Designs, UK with Société Général London Offices. An interesting use of greenery bringing nature closer to people in an otherwise clean & modern indoor space.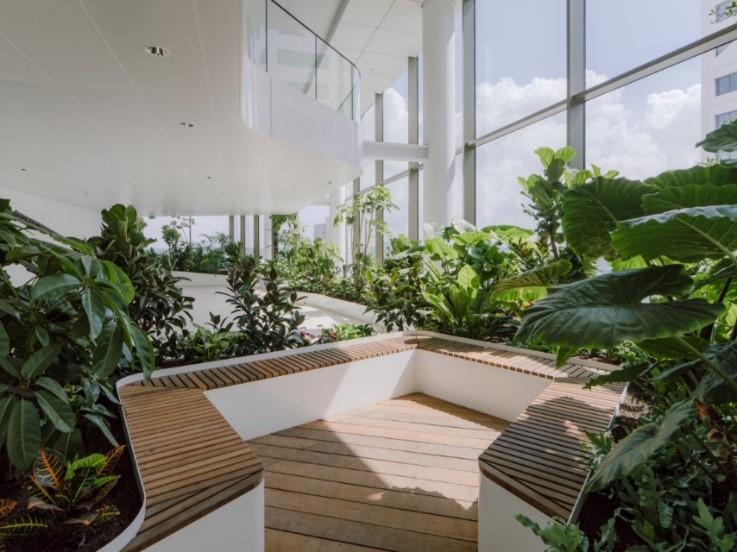 Gold Leaf Winner: Koninklijke Ginkel Group & MOSS, The Netherlands, Central Park
In the category Stand-Alone out of 8 received projects:
Winner of the Gold Leaf  is GreenMood, Belgium with their Transformed Swimming Pool. Under a huge glass roof, in what used to be a castle's swimming pool, a gastronomic restaurant was installed in a green bubble. The greenery transforms the place into a very inspiring place to visit.
Silver Leaf : Mekelenkamp I Plantenman, The Netherlands with Quartier Bleu Hasselt. The jury thought this to be a most interesting design for a car park.
Bronze Leaf : Ambiance Florale Paris, France with Ylium. A well thought-out design with an interesting use of high and low grasses.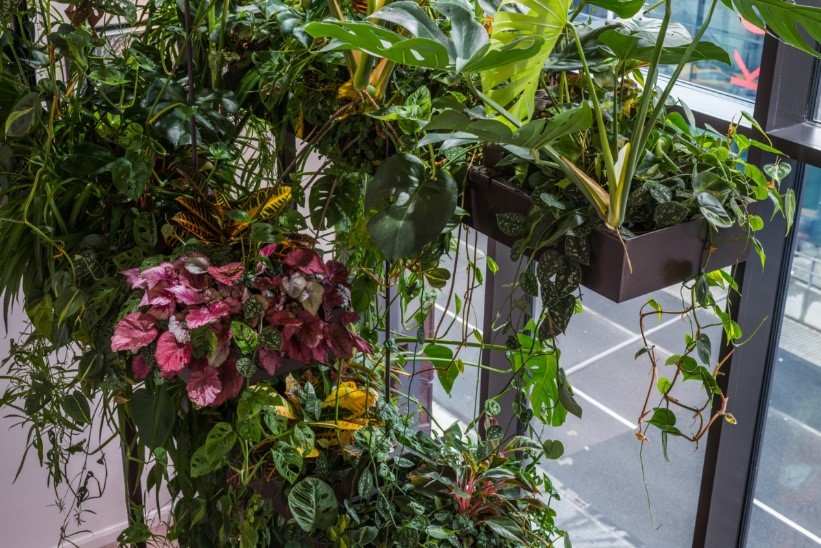 Gold Leaf winner: Pflanzen Forum Germany, Room of the Tree
Indoor greenery is more important than ever
There is growing scientifical and empirical proof that green surroundings are beneficial for human health and wellbeing. However, global massive biodiversity loss, urbanisation and, for many people, a life spent mostly indoors, lead to a disconnect between people and nature and a decline in human wellbeing and health. If anything, the past years living confined with COVID have shown that people crave nature, in their neighbourhoods, gardens and living rooms, to help retain their mental health. Secondly we now know it is of
the utmost importance to invest in healthy homes and offices with good indoor air quality. Greening our homes, offices, retail centres and public spaces will highly contribute to a healthy environment.
 Interior landscaping, a small sector with a bright future
Plants are essential in a healthy society and the interior landscaping sector will deliver. Whether with tropical plants, massive green walls, indoor trees, desk plants, green room dividers, aromatic and kitchen garden crops for corporate restaurants, greenery with high-tech and energy-efficient lighting & irrigation systems, interior landscapers bring specific innovative skills and creativity to help create and maintain a healthy environment for all people to enjoy. Let's go green post-pandemic!