Green roof of Nivy Mall
An oasis for leisure and retail in the heart of a vivid city district
Bratislava's New Nivy zone, located at the border with the Old Town, was always an important transportation hub. With lots of new development over the past few years, including both offices and housing, the brand-new Nivy Mall (a part of New Nivy zone), and the freshly completely renovated Mlynské nivy Street, it attracts even more commuters, neighbours, and employees.
Nivy Mall is becoming the new social ″heart″ of the zone. It combines an international bus terminal, shopping mall, and a unique food zone with a fresh market directly connected to an active green roof through an atrium.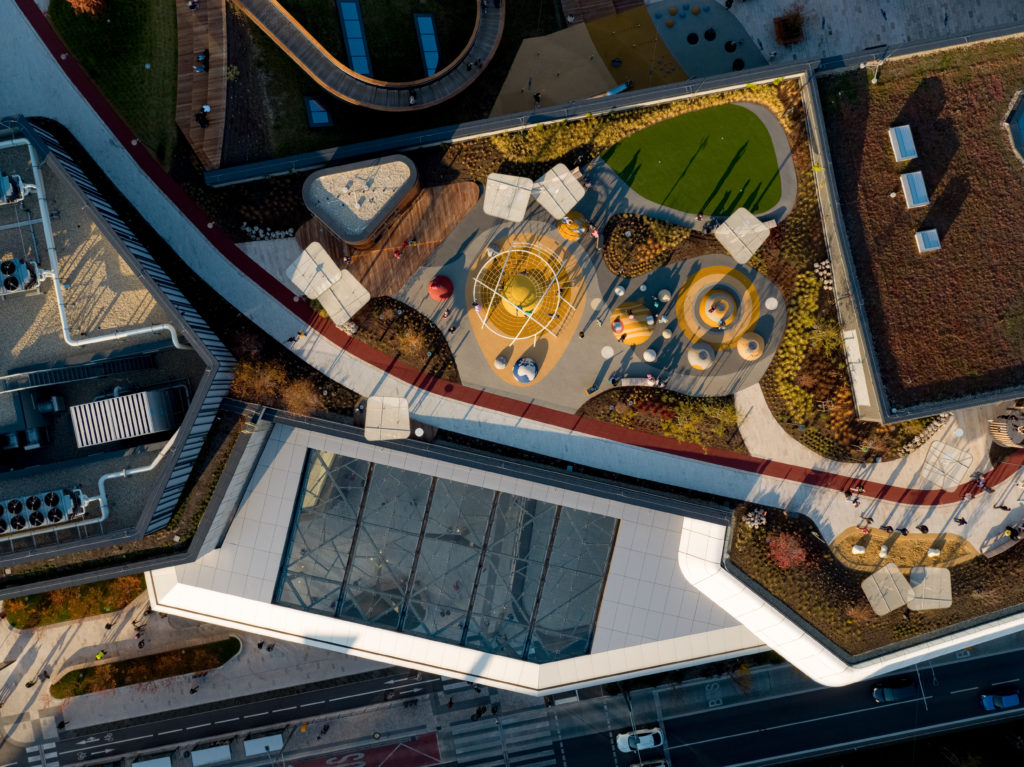 Concentration of the city's buzz
With more than 43 thousand visitors per day, 12 thousand employees in nearby offices, and 3 thousand neighbouring inhabitants, there are a lot of demands falling on one place.
All this together creates a very lively public buzz which comes hand in hand with more loyal customers and happy retailers operating in the shopping mall. The glue that unites various interests and lifestyles is for sure the active green roof of the Nivy Station.
With an area of 12,000 m2 it creates a new public space that is becoming the social hub of the entire district. Connecting passengers passing through the station, shopping centre customers, employees of the New Nivy business district, and last but not least also residents. All of them nicely mixing in one place.
The green roof area is an open-air free public space where all social interactions can safely happen. And we all know that public spaces are one of the factors that create conditions for successful retail in a city. Areas designed for leisure activities, terraces, playgrounds, nice views, and various types of events attract people who increasingly combine shopping with leisure. And we are ready for that.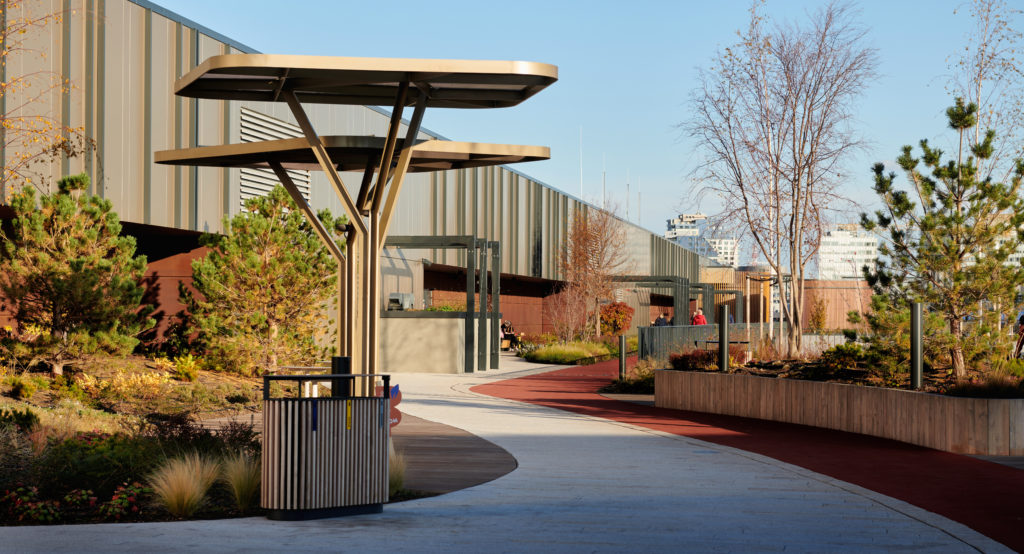 Green roof as a significant competitive advantage
Green roofs also have an economic impact: they help improve the urban environment. From a business perspective, they become an exceptional added value that customers have been increasingly taking into consideration when making shopping decisions.
This is because these places are becoming community spaces where locals come to relax, and they perceive the roofs as green areas where they like to spend their time. They have a closer relationship to green roofs and thus are more loyal to the entire space.
Thanks to its area, possibilities, quality, and layout, it is definitely a ground-breaking project not only in Bratislava, but in the entire country.
One zone for everybody, everyday
HB Reavis designed the roof to create separate zones each with distinct functions, complementing and balancing one another. Therefore, visitors will find zones for shopping, relaxation, events, fitness, sports, leisure, and community meetings.
At the atrium you find a large terrace, a playground, hanging shading elements, and mobile flower beds so the usable area can be extended. Apart from its venue function, the atrium also serves as a large relaxation zone for all categories of visitors.
A nice day outside but still have a lot to do? Take your office to the fresh air! With many peripheral zones you will easily find an intimate corner for a more informal meeting, having lunch with your colleagues, or just emptying out your rising inbox in the relaxation zone equipped with electric sockets in built-in tables.
When you finally have a day off, the green roof is a perfect spot to enjoy a family picnic. Just unfold that blanket on the green grass and while that delicious food you just bought from a local farmer is prepared, your kids can play in a labyrinth or with water guns while the older ones can try out their cool new tricks at the workout zone. Or got inspired by The Queen's Gambit? Outdoor chess is waiting for you!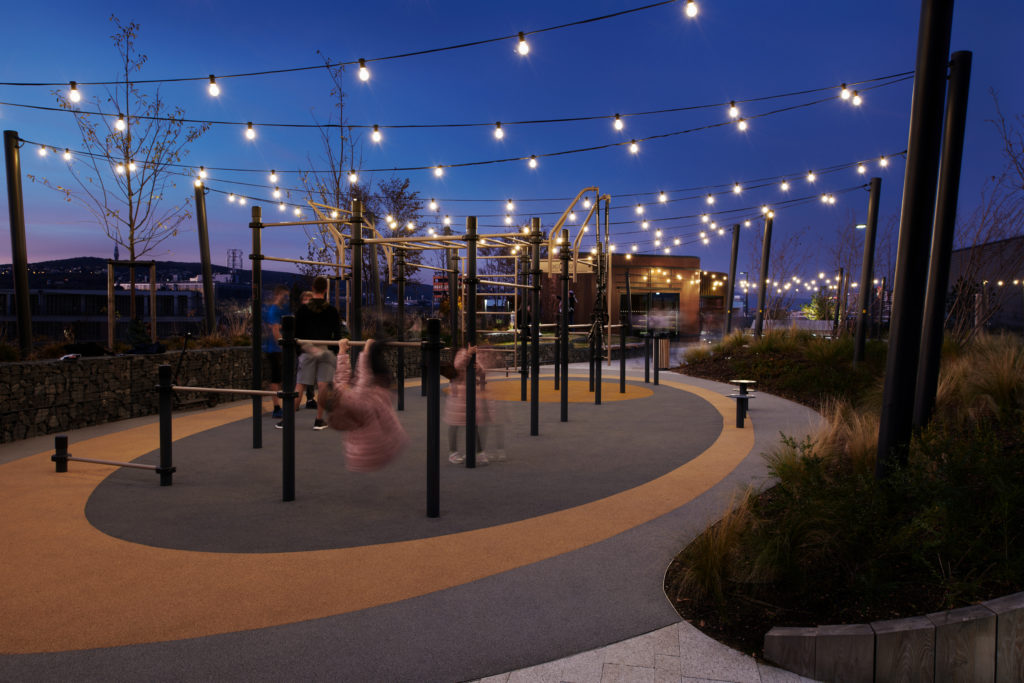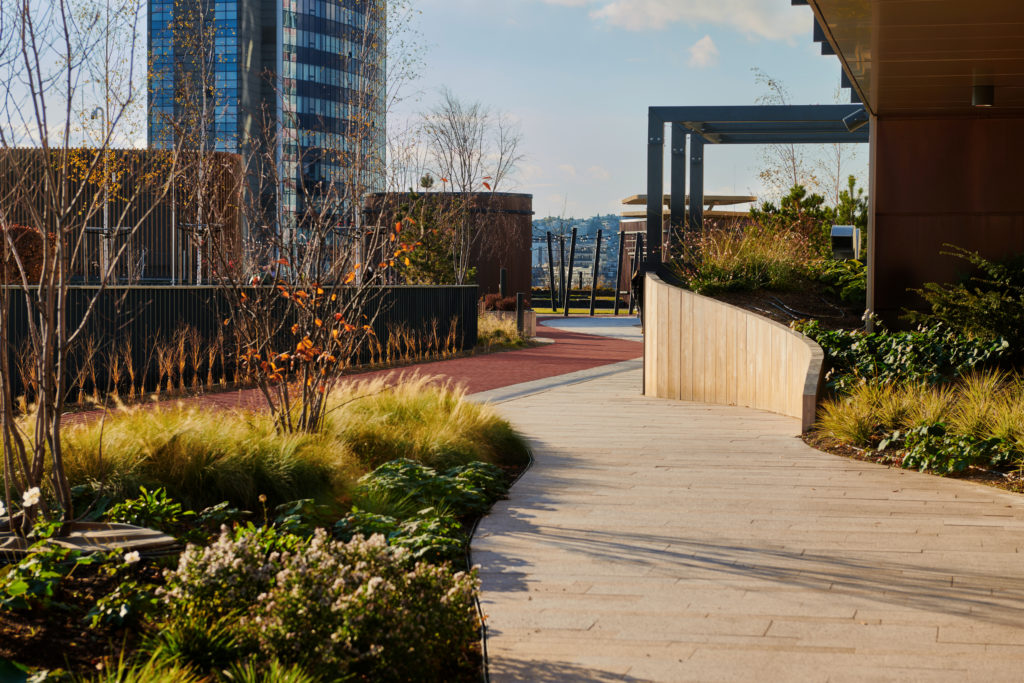 Connecting people
The green roof is truly for everybody. Either you want to spend some time alone, with a big or smaller family, kids or teenagers, or with few or lots of friends, colleagues, or clients.
With the combination of sports areas, a community garden, and a barbecue zone equipped with electric grills, Nivy Mall got a space where neighbourly relations and community are built, which has many benefits for all of them.
Nivy Mall's green roof is the answer to all of different kinds of requirements. It is a community destination in the city itself, offering dozens of activities for visitors of all ages. Functional zones with detailed layouts, a focus on eco-friendliness, event areas, and ingenious solutions designed by top experts are creating a social hub with a wide range of reasons for people to spend their time that you simply cannot find anywhere close by.
List of microfunctions:
Work-out zone with equipment
Yoga/ pilates corner
Children playground with water fountain
Sun-beds and shaders
Community garden
BBQ zone with sitting
Ping-pong spot
Running track (550 metres long)
Bee-hive in progress (2022)
Trampolines and slide
Atrium
Chess tables
Picnic area
Kiosks for quick refreshments
Greenery respecting the climate conditions (only local species)
Author & Images: HB Reavis (11/21)