The area of green roofs increased again in 2018
Press release of the Czech Green Roof Association
under the Czech Landscape Gardening Association (SZÚZ)
Brno, August 23, 2019: Green Roofs 2018 – Market Report
As in previous years, this year the Czech Green Roof Association (Sekce Zelené střechy) under the Czech Landscape Gardening Association (Svaz zakládání a údržby zeleně) also surveyed the total area of green roofs installed in the Czech Republic. The measurement was based on the amount of roof substrate delivered, which is the key component of vegetation roofs. Total area of green roofs realized in 2018 in the Czech Republic was approximately 247,000 m2, which corresponds to 5.5 times the area of Wenceslas Square, or a 9 km long stretch of motorway or 23 football pitches. Compared to 2017, when the increase in the area of green roofs amounted to 195,000 m², it is a year-on-year increase of more than 25%.
In 2018, extensive green roofs were installed on 194,000 m2, representing 77% of all vegetation roofs. Intensive green roofs increased by 53,000 m2, which corresponds to 23% of the total.
Extensive / intensive roof ratio has not changed compared to the previous year. The main reasons for greater representation of extensive green roofs remain lower acquisition costs, lower maintenance costs and minimal need for additional irrigation.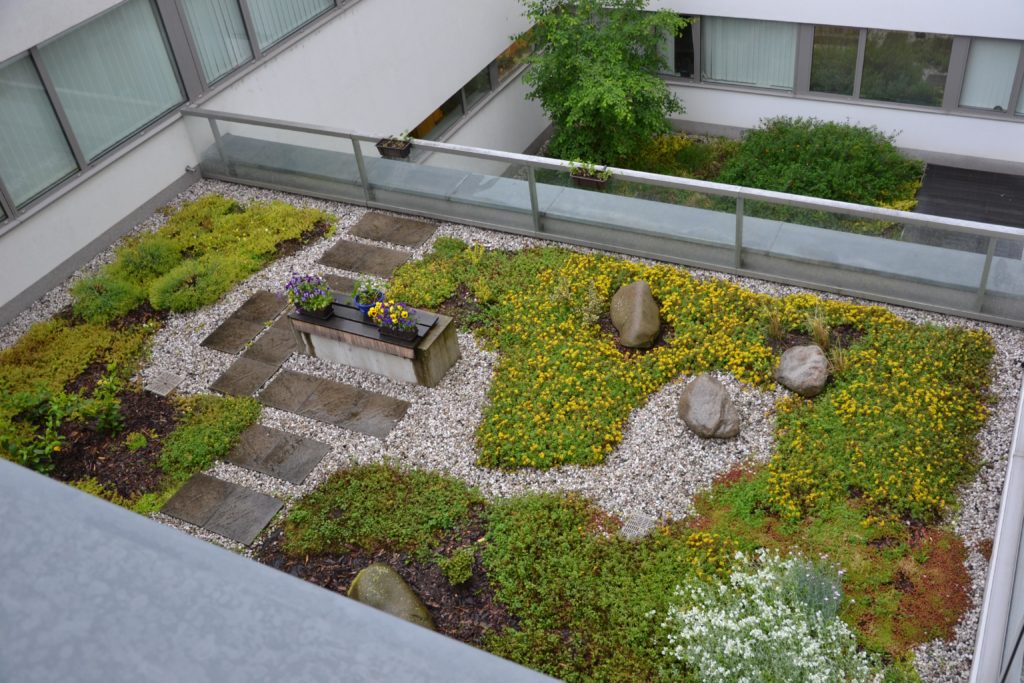 "Due to the expansion of cities, there is a decline in green areas that naturally purify the air, trap rainwater and increase the humidity of their surroundings. Many buildings solve the problem of lack of greenery by installing green roofs, which effectively help combat drought by capturing rainwater and by returning it back into the surrounding area using leaves and substrate. Since 1987 the company Rašelina, then as a national enterprise, started first in Czechoslovakia with production of roof substrates. The volume of production of these special substrates is still growing and with it the constant development of new recipes."
Ing. Petra Máslová Dvořáková, Rašelina
Companies engaged in the installation of green roofs are mostly small entrepreneurs and small and medium-sized enterprises. The manufacturers of materials for green roofs are represented by a wide range of company sizes: small specialized entrepreneurs, small and medium-sized factories as well as multinational suppliers from abroad. The field employed 390 workers in 2018 on positions related to design, preparation, installation, maintenance and at suppliers (production, sales, customer support,…). The total turnover of the Czech green roof industry in 2018 was CZK 414 million, which represents a 24.3% increase over the previous year. For comparison, in the same year the Czech construction output grew by 8.4% (CZSO, 2019). Thus, the green roof sector has grown three times faster.
The rapid growth of the vegetation roof sector is mainly due to the following factors:
• Use of cheap mortgages from previous years
• Continued growth in the low-energy construction market and expansion of green roof subsidies from the New Green Savings program
• Increasing popularity of sustainable construction and use of natural materials
• Increasing public awareness of climate change as evidenced by extreme droughts and summer heat in 2018
• Increased media interest in the impacts of climate change on the Czech Republic
• Increased public awareness of green infrastructure in cities
"Our substrates are composed of pure natural lava and pumice materials that are resistant to frost weathering and plants are very willing to spice into them. With over 30 years of experience, Vulkatec is a trusted partner in the area of green roof installation. Special powerful turbochargers with compressors allow elegant blowing of substrates to the roof even in multi-storey buildings."
Zbyněk Slezáček, Vulkatec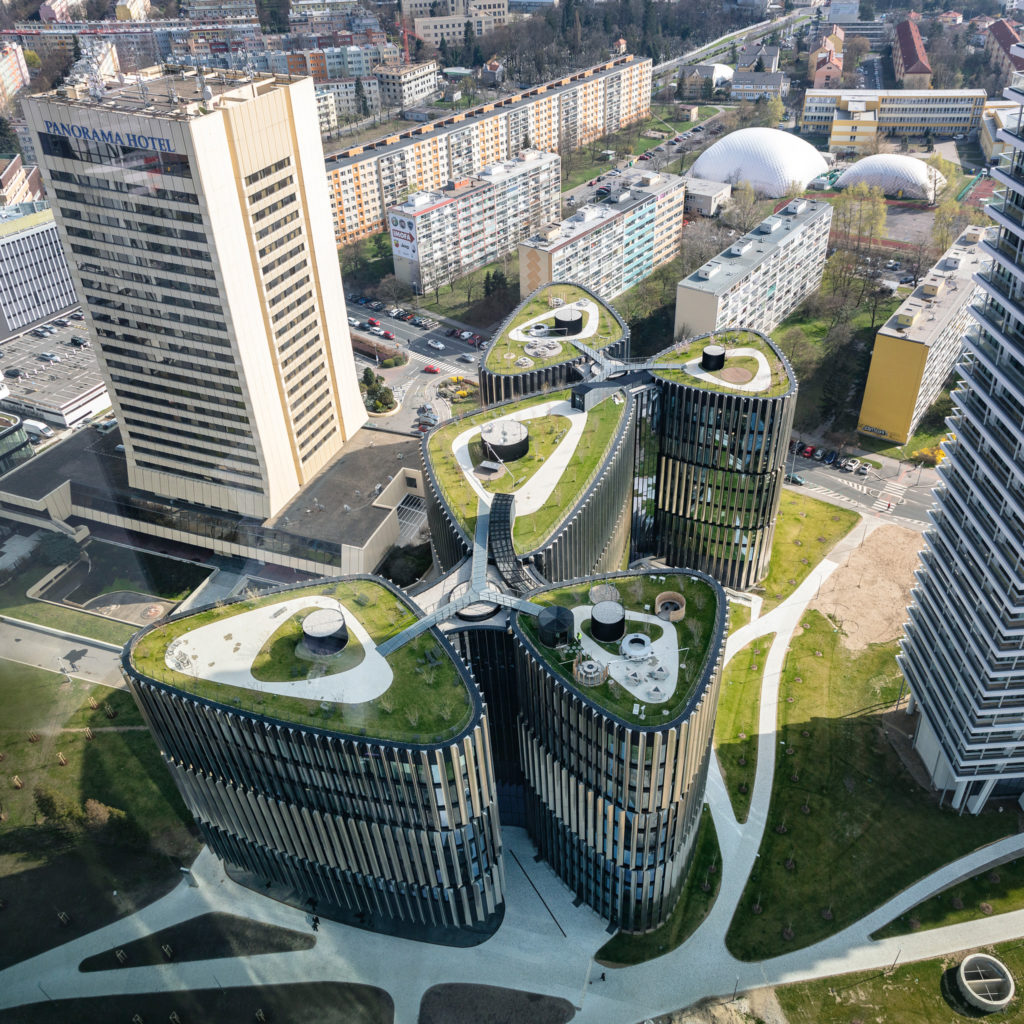 A positive change since last year's measurement is the development in the public sector as measured by a public / private investor ratio. In 2017, the ratio was 1:9, meaning only one in ten green roofs had a public investor. In 2018 the ratio was only 1 public contract per 7 private ones. Typical objects on which green roofs are proposed are schools, kindergartens, libraries, hospitals, retirement homes and other. Thus, the public sector is increasingly aware of its role as a role-model in the implementation of environmentally valuable measures. However, complicated administration, combined with strong market demand, leads to an outflow of firms towards the private sector, reduced interest in public procurement and sometimes unprofessional implementation.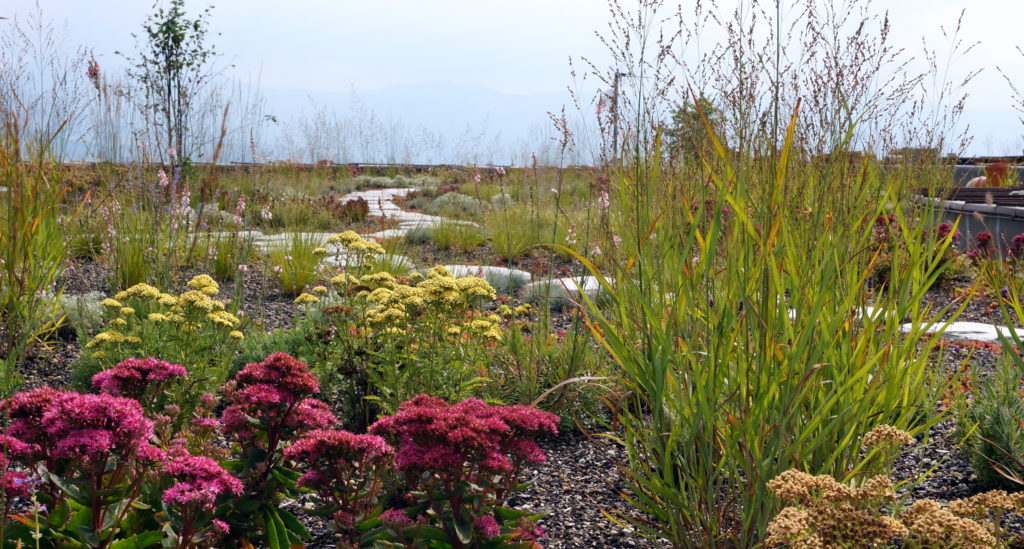 "I think that public interest has increased significantly in recent years. I attribute more public awareness to the trend of this time when people try to think more about the protection of nature and the environment in which they actually live. Certainly, it is also thanks to education and support of SZÚZ."
Zbynek Ptacek, BB Com
Trends
More use of green roofs for rainwater management purposes can be expected in the coming period since the Czech law imposes a duty on the builder to deal with rainwater on their premises. Green roofs can retain and return to the air up to 99% of rainwater, being an advantage over other methods of rainwater management. However, there is no uniform legislative approach in this respect or a methodological guideline to facilitate the negotiation of the builder and relevant authorities. As a motivational tool for wider use of green roofs in the commercial sector, reduction in the rainwater fee can be used for buildings with vegetated roofs, a measure common in western countries. This tool is so far used only locally and unsystematically in the Czech Republic.
Support for green roofs in the cities. A subsidy program in Brno, which allocates CZK 20 million for green roofs, shows one possible way of support for green roofs. Some other cities are preparing similar measures. The emerging trend is the use of green roofs as a compensatory measure not only in urban brownfields. Thus, vegetation roofs can allow the builder to use a larger area of land for construction while returning green to the roofs of buildings. This procedure has previously proven successful in the renovation of former German military brownfields or London post-industrial brownfields. Like in the case of rainwater management, there is a need for greater attention and public cooperation.
We would like to thank for cooperation to the following companies: BBCom s.r.o., Agro CS, Rašelina a.s., Vulkatec Riebensahm GmbH, Optigrün AG a SedumTop solution s.r.o.
Contacts:
Ing. Jana Šimečková, director
Czech Landscape Gardening Association
Údolní 33, 602 00 Brno, Czech Republic
mail: info@szuz.cz, mobile phone: +420 777 581 544 , www.szuz.cz
Ing. Pavel Dostal
Managing Director GreenVille & Vice President of the European Federation of Green Roof and Wall Associations
mail: pavel@greenville.cz, mobile phone: +420 607 181 188