The cross-border project that brings green infrastructure and green energy in urban environments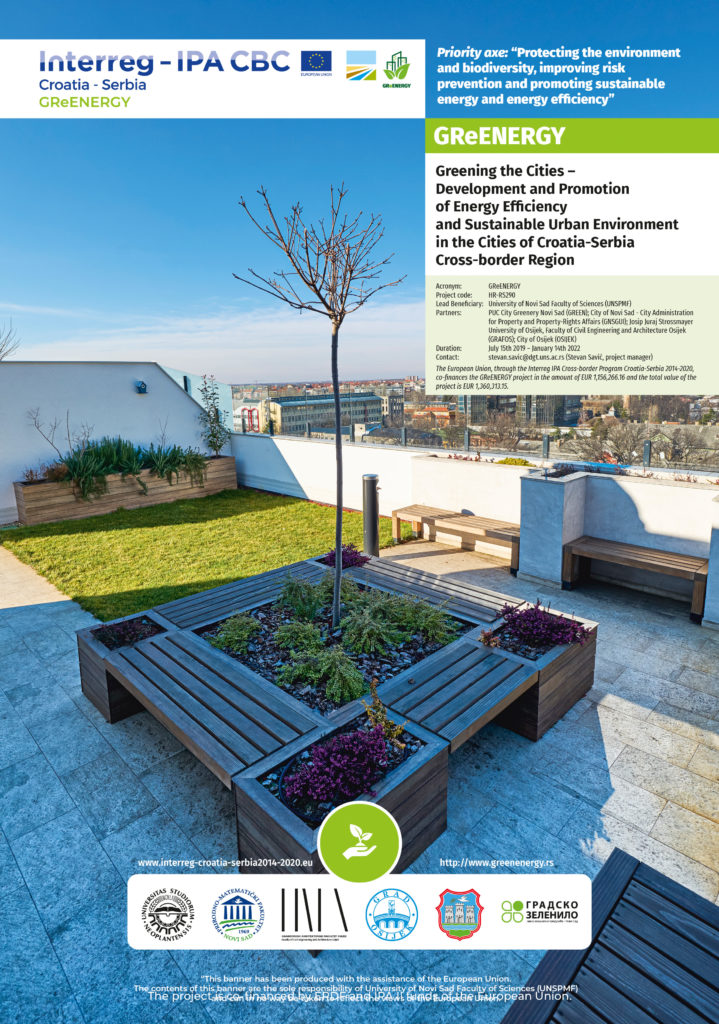 The GReENERGY project, entitled "Greening the cities – Development and promotion of energy efficiency and sustainable urban environment in the cities of Croatia-Serbia cross-border region", is a project funded by the European Union through the Interreg-IPA cross-border cooperation program Croatia-Serbia 2014-2020. The total value of the project is 1.36 million euros and is being realized in the period from July 2019 to January 2022.
The manager and leader of the project is prof. Dr. Stevan Savić from the University of Novi Sad Faculty of Sciences and the partner institutions are: the Public Utility Company "Gradsko Zelenilo" Novi Sad; City of Novi Sad – City Administration for Property and Property-Legal Affairs; Josip Juraj Strossmayer University of Osijek, Faculty of Civil Engineering and Architecture Osijek; and the City of Osijek.
All information about the GReENERGY project can be found on the official website: www.greenenergy.rs
The GReENERGY project is of great importance not only for the professional but also for the general public, including local and regional institutions, as it deals with issues that affect the daily lives of all of us who live and work in urban areas. Threrefore, in the following link, the two-minute promo video presents the whole idea and concept of the GReENERGY project.
GReENERGY, Youtube link: https://www.youtube.com/watch?v=YBSowM6YSzA
The main activities of ​​the GReENERGY project are:
implementation of green infrastructures on the two selected public objects, one in Novi Sad (Serbia) and one in Osijek (Croatia); the semi-intensive green roof of 480 m2 and the green wall of 80 m2 is installed on the Elementary and Secondary School "Milan Petrović" in Novi Sad and the extensive green roof of 160 m2is installed on the object of high school playground in Osijek;
installation of solar power plants with a total capacity of 213 kW, i.e. installation of solar power plant on the Elementary and Secondary School "Milan Petrović" in Novi Sad (with 120 kW od power) and the second one on the object of high school playground in Osijek (with 93 kW of power);
reconstruction of the lighting in the both buildings, i.e. the replacement of the classic lighting with LED lighting.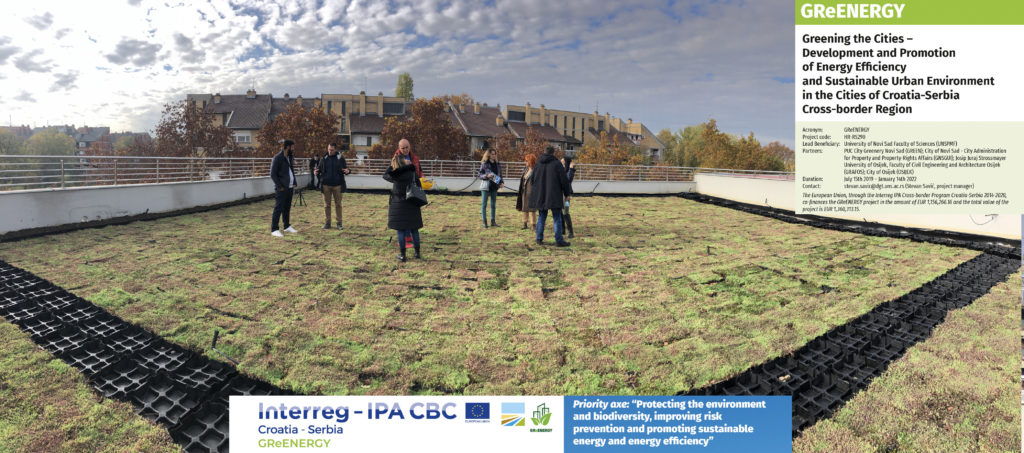 The expected benefits of installed green infrastructures (green roofs and wall) and production of green eneergy through installed solar power plants in both cities/public objects are:
better microclimatic conditions and better thermal comfort for the population through the influence of the green area on the temperature balance during the day;
conditions for survival and development of urban biodiversity, primarily for birds and insects for which the urban area represents the environment;
the entire system of green infrastructure is self-sustainable, i.ee it does not depend directly on existing energy sources;
excess green energy is used for direct electricity consumption in buildings;
better energy efficiency is provided in both public buildings throughout the whole year.