When:
20. May 2020 – 21. May 2020
all-day
2020-05-20T00:00:00+02:00
2020-05-22T00:00:00+02:00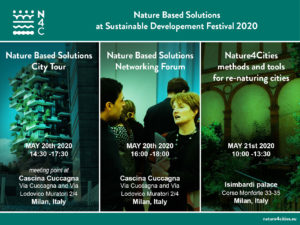 Nature Based Solutions in the spotlight
at the Sustainable Development Festival in Milan
On May 20th and 21st in Milan, Nature4Cities will organize a side-event dedicated to Nature Based Solutions (NBS) during the Sustainable Development Festival.
NBS city tour, NBS Networking forum, presentation of Nature4Cities tools and methods…we have no doubt that you will find a format to your taste to learn more and discuss about NBS!
The festival
Organized by the Italian Alliance for Sustainable Development (ASviS) which puts together more than 220 stakeholders from civil society, institutions, top universities and economic representatives, the Sustainable Development Festival (festival dello sviluppo sostenibile) takes place annually in Italy.
The Festival aims to raise awareness and promote actions on 2030 agenda global goals.
This year, Nature Based Solutions will be in the spotlight thanks to a multifaceted side-event.
The NBS city tour
A walk in the city to discover Nature Based Solutions projects directly on the field. Professionnals and experts will accompagny this tour to share explanations about the projects and the stakes related to it.
When?
May 20th 2020, from 14:30 to 17:30
 Where?
Meeting point at Cascina Cuccagna, Via Cuccagna and Via Lodovico Muratori 2/4, Milan, Italy
The NBS Networking Forum
You are an expert, a professionnal or a municipality interested in NBS? This event is made for you! Come and meet the multidisciplinary members of Nature4Cities during an informal event to enlarge your network and knowledge on this matter.
When?
May 20th 2020, from 16:00 to 18:00
 Where?
Cascina Cuccagna, Via Cuccagna and Via Lodovico Muratori 2/4, Milan, Italy
The conferences and demo-workshops
Come to discover Nature4Cities tools and methods to renature cities.
Nature4Cities is developing a platform allowing to create, assess and implement a NBS project.
Municipalities, Professionals, Citizens… There are tools for each kind of stakeholder!
Participation, business models, knowledge bases, pioneer examples… Everything you need to support your project has a tool on our platform!
When?
May 21st 2020, from 10:00 to 13:30
 Where?
Isimbardi Palace, Via dei Piatti, 4, Milan, Italy