When:
28. September 2022 – 29. September 2022
all-day
2022-09-28T00:00:00+02:00
2022-09-30T00:00:00+02:00
Contact:
Asociácia pre zelené strechy a zelenú infraštruktúru
CONFERENCE: 'Green roofs for more resilient cities'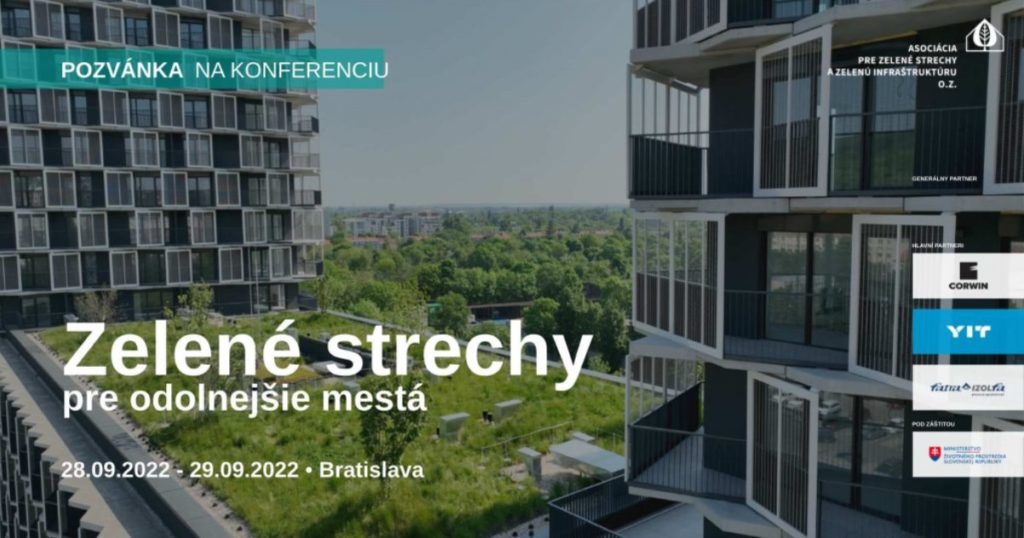 Date: 28.9. 2022 – 29.9.2022
Location: Park Inn by Radisson Danube Bratislava
Registration start: 8:00am
Conference start: 9:00am
The conference is intended for: architects, planners, municipal and state administration representatives, construction companies, developers, educators, students and water retention enthusiasts
PRESENTATIONS
Green Roofs – Innovations for the Future, Dusty Gedge, President, European Federation of Green Roof and Living Wall Associations (EFB)
Standards for the design, implementation and maintenance of green roofs, Zuzana Beerová, AGRO CS Slovakia
Biosolar green roofs – a solution for cities, Andreas Dreisiebner, Switzerland
Systemic support for green roofs abroad, Pavel Dostál, Chairman of the Green Roofs Section, Czech Republic
Why SPP supports the synergy of photovoltaics and green roofs, Rastislav Nemec, SPP
Water in settlements – municipalities managing water wisely, Martina Paulíková, Ekopolis
Grey-blue-green infrastructure, Martin Vysoký, architect .edge, Sweden
Green roofs – a developer's perspective, Branislav Bošák, YIT
EIA – preparation of construction projects and green measures, Vladimír Kočvara, ADONIS CONSULT
Rooftop cultivation in the urban ecosystem, Pete Ellis, USA
Hidden potential of heat islands in cities, Ján Rapan, climate change consultant
Green facades, Elisabeth Gruchmann, GRÜNSTATTGRAU, Austria
Creating green infrastructure in Slovakia – 10 years of practice, CORWIN
Winners of the "Green Roof of 2022" competition will be announced at the conference
Evening banquet / networking
EXCURSION
Excursion to the best green roofs and green facades in Bratislava and Vienna
Green roofs have many benefits to help us adapt to the negative impacts of climate change. Every year we experience droughts, heat waves and floods. Vegetated roofs help to cool heat islands in cities, retain rainwater so that it does not run off into drains, increase biodiversity, or create new living spaces in office or commercial centres. They also combine well with photovoltaics and improve their efficiency.
In order for green roofs to work and fulfil their function in the long term, they need to be installed in the right way. That is why the Green Roof Association has issued Standards for the design, implementation and maintenance of vegetated roofs, which we will present at the conference.
Conference TICKETS:
Conference + evening networking (standard price) 199,00 €
Conference + evening networking (discounted price: Members of the Green Roof Association, EFB, state administration, local government, universities, students) 129,00 €
Excursion – green roofs/foundations (Bratislava, Vienna) 20,00 €
Evening networking 49,00 €